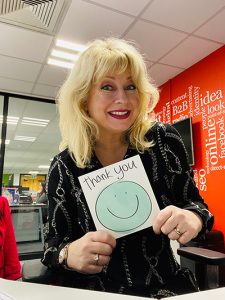 About Clobber Swap
Well, what can I say? From a little idea born the weekend before going back to work in January 2020 to having a private group of over 6,000 members!
At the turn of 2020, I felt like I'd lost a bit of sparkle, my mojo, the fashionista in me. I decided to take charge and give my wardrobe a shake up and de-clutter, arranging two piles: one for me and one for my dear sisters/friends. The pile for my sisters was much larger and even for them there was so many!
I wondered if anyone else would be interested in swapping some clobber! This was the birth of "Clobber Swap". I was so pleased with the 30 followers in my private Facebook group and with the activity growing between a few mates.
After Clobber Swapping with Catherine Louise Elson and Victoria Reddington, and Clobber Buying a gorgeous cerise pink coat by John Luc from Irene Leeuwenkamp, I felt I was starting to get my zing back! The best thing was that so were all the other Clobber Swap members. One of the best things about Clobber Swap is that it's a sustainable, guilt-free way to refresh your wardrobe. Your unwanted clothes don't have to hurt the planet by going to landfill – they could be loved by someone new!
From 32, within 5 weeks it became 6,000 members, reaching over 55,000 women right across the country- WOW! 100% organic growth. It was time to invest in Clobber Admin, we attached a small fee to be part of the group due to the level of effort needed. To keep the site looking like a ladies boutique 24/7 isn't easy!
So thank you to our original members for making this happen!
I'm absolutely thrilled by Clobber Swap's success. Let's grow even further together; please keep spreading the Clobber Love and sharing your stories!